Click here to see recent photos of the Westover Family Ranch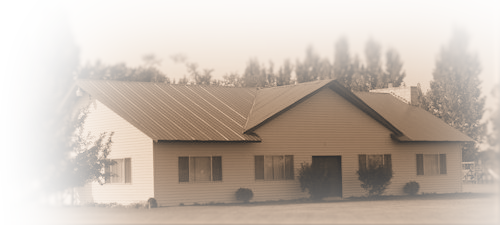 Large Main Hall (36′ x 66′)
A beautiful big fireplace.
A nice big bulletin board is in there, so we don't allow nails or tape on the walls.
Sound system.
Pulpit.
Piano.
LDS sacrament table with plenty of trays
Lots of LDS hymnbooks.
Large Kitchen
Plenty of cooking equipment.
Plates and eating utensils are provided, however, cups are not. (If you prefer to bring your own paper or plastic cups and plates, you're welcome to).
Dish washing soap, hand soap, paper towels, garbage bags, cleaning supplies and toilet paper are all provided.
Miscellaneous
Large walk-in cooler for keeping your food fresh.
Big deep freezer for frozen foods.
Drinking fountain with delicious well water in the hallway.
An old-fashioned Soda Shop.
Separate men's and women's restrooms with large showers.
Outside
A fire pit and plenty of firewood
A flagpole and flag.
A bell tower with a working bell to call your group to assembly (rope to ring bell is near the kitchen).
Plenty of RV spaces with full hookups.
Large area for tents.
Large baseball diamond (bring your own mitts).
Half basketball court (bring your own basketball).
Vollyball poles and net (bring your own volleyball).
Horseshoe pits.
Children's play area, which includes a 20′ by 20′ sand box, swings, and a Big Toy.